Welcome to The Weekender, Coveteur's journey sequence the place seasoned globetrotters share their insider guides to prime locations internationally. Learn on for one of the best spots to eat, keep, and luxuriate in.
On the lookout for some peace, a shift in perspective, and an opportunity to get out of my consolation zone, I made a decision to go on my first solo journey. All of my journeys prior to now have been for an event, whether or not it's a household trip or a buddy's birthday. However a trip doesn't must be scheduled for a particular purpose and no, you don't must go together with a gaggle and even one other particular person. I'm very snug being alone—I reside alone, I eat at eating places on my own—so a solo journey has at all times been one thing that's crossed my thoughts. So when I discovered a while on my calendar to take a trip, I reached out to mates about the place I ought to go and Bacalar got here up a pair instances, which was shocking given I'd by no means heard of the small city earlier than. 4 hours from Cancun and about half-hour from Chetumal, Bacalar sits on the coast of Mexico's Yucatan peninsula close to the border of Belize and alongside a 26-mile-long freshwater lagoon. After seeing the beautiful pictures of the water and listening to extra concerning the city's gradual tempo of life, I used to be bought. Now that I've returned from my journey, I am unable to cease speaking concerning the hidden gem that's Bacalar. Maintain studying for what to do, the place to eat, and the place to remain.
The place to Keep
Habitas Bacalar
My room at Habitas Bacalar.
Photographs: Courtesy of Ama Kwarteng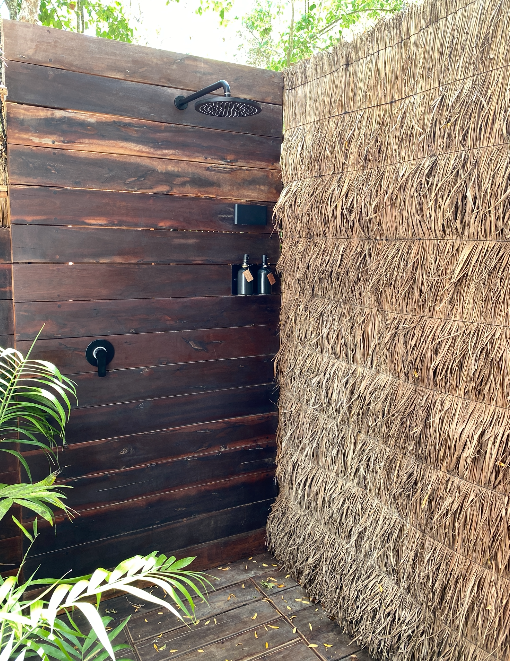 My room's outside bathe.
Two issues particularly drew me to the lodge. The primary was the truth that it's sustainably-focused. There are 35 A-frame tents with ground to ceiling home windows and an out of doors bathe—you possibly can select a jungle room, a mangrove room, or a lagoon room—and the property is constructed in a method to decrease their environmental affect. Habitas Bacalar can be dedicated to fulfilling the United Nations' Sustainability Improvement Targets for 2030.
The opposite draw was the wellness side. Habitas is a spot to relaxation, reset, and recharge, which was precisely what I used to be trying to do. There are numerous actions on web site together with guided meditations, yoga courses, and paddle boarding. When you test in, you're handled to a standard Mayan welcome ceremony with palo de tinte, setting the tone for the journey.
What To Do
Schedule a Breathwork Session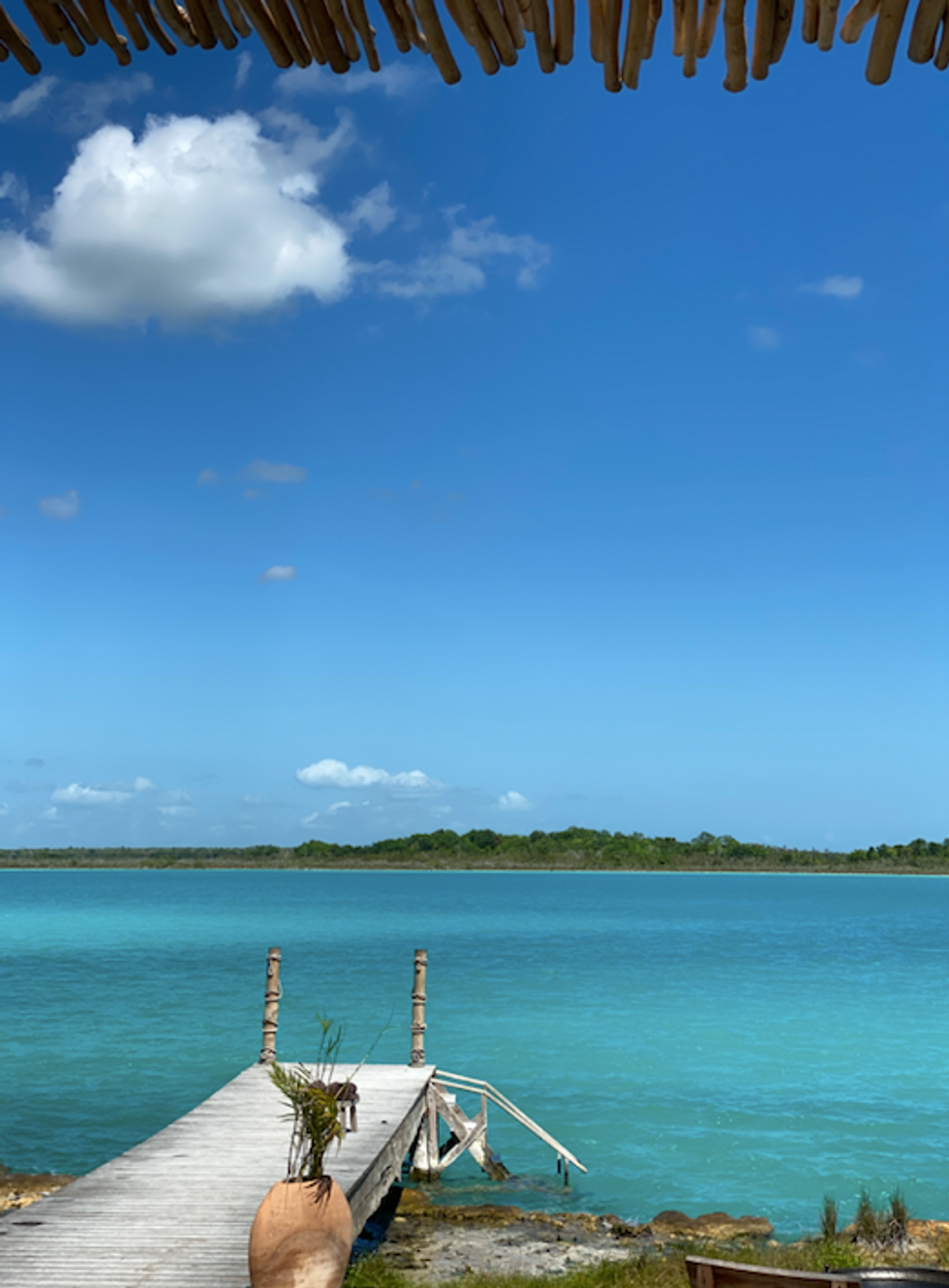 The view from the lagoon-side deck, close to the place the breathwork session happened.
Photograph: Courtesy of Ama Kwarteng
On my first morning at Habitas Bacalar, I walked over the wellness tent close to the lagoon-side deck for a yoga class. Lengthy story brief, the teacher was working late and the yoga session became a breathwork session, taught by a pair, Andrea and Gregorio. By way of lively respiration strategies, breathwork is a type of meditation that lets you quiet your thoughts and join with the self. At first, I assumed how life-changing can respiration actually be? And after two periods with Andrea and Gregorio, I uncovered the reply. It was an extremely grounding and transformative expertise that helped me achieve each readability and a way of perspective, one thing I wasn't initially anticipating in any respect.
Sail on the Lagoon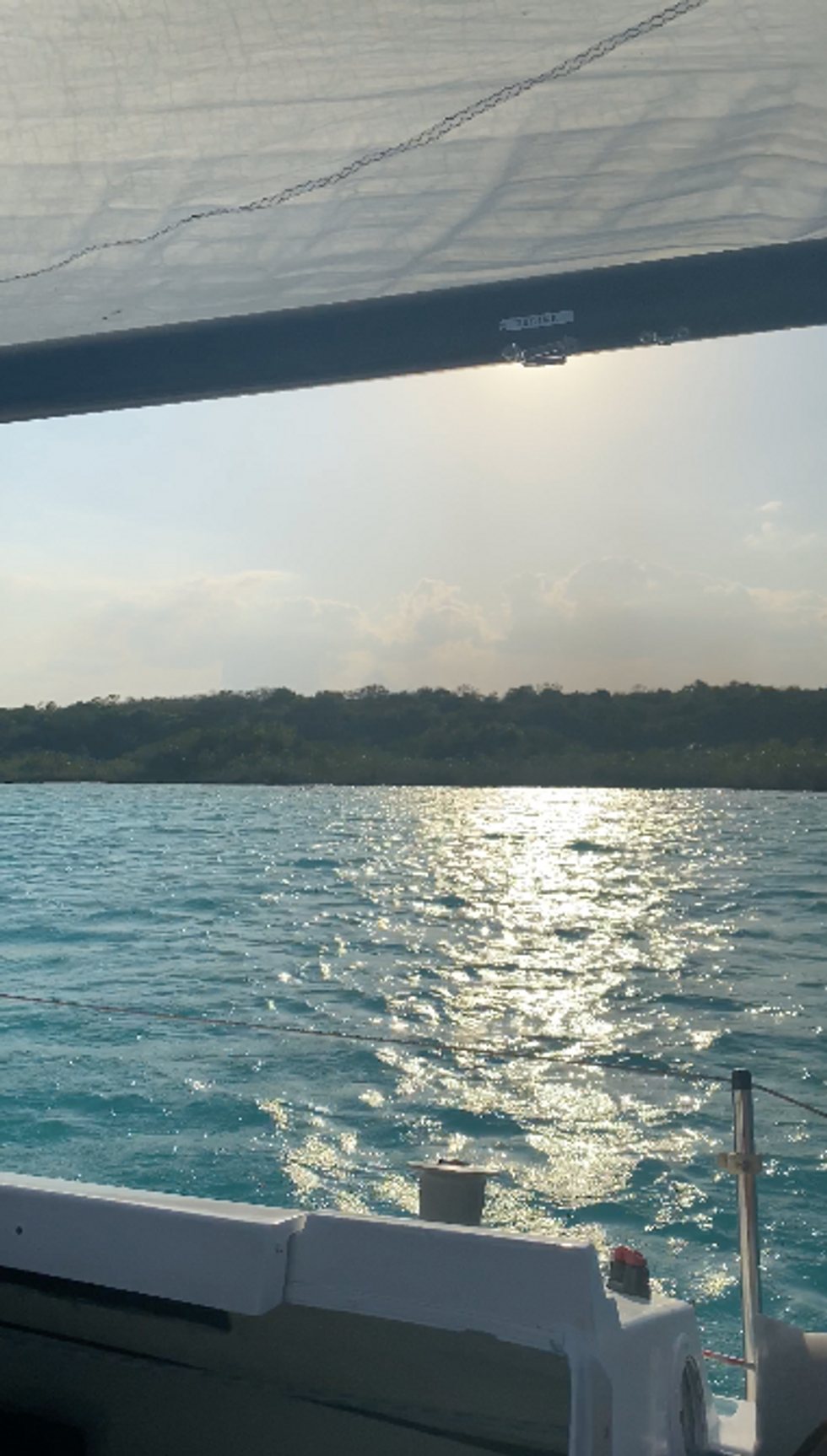 As we made our approach again to Habitas, the solar started to set.
Photographs: Courtesy of Ama Kwarteng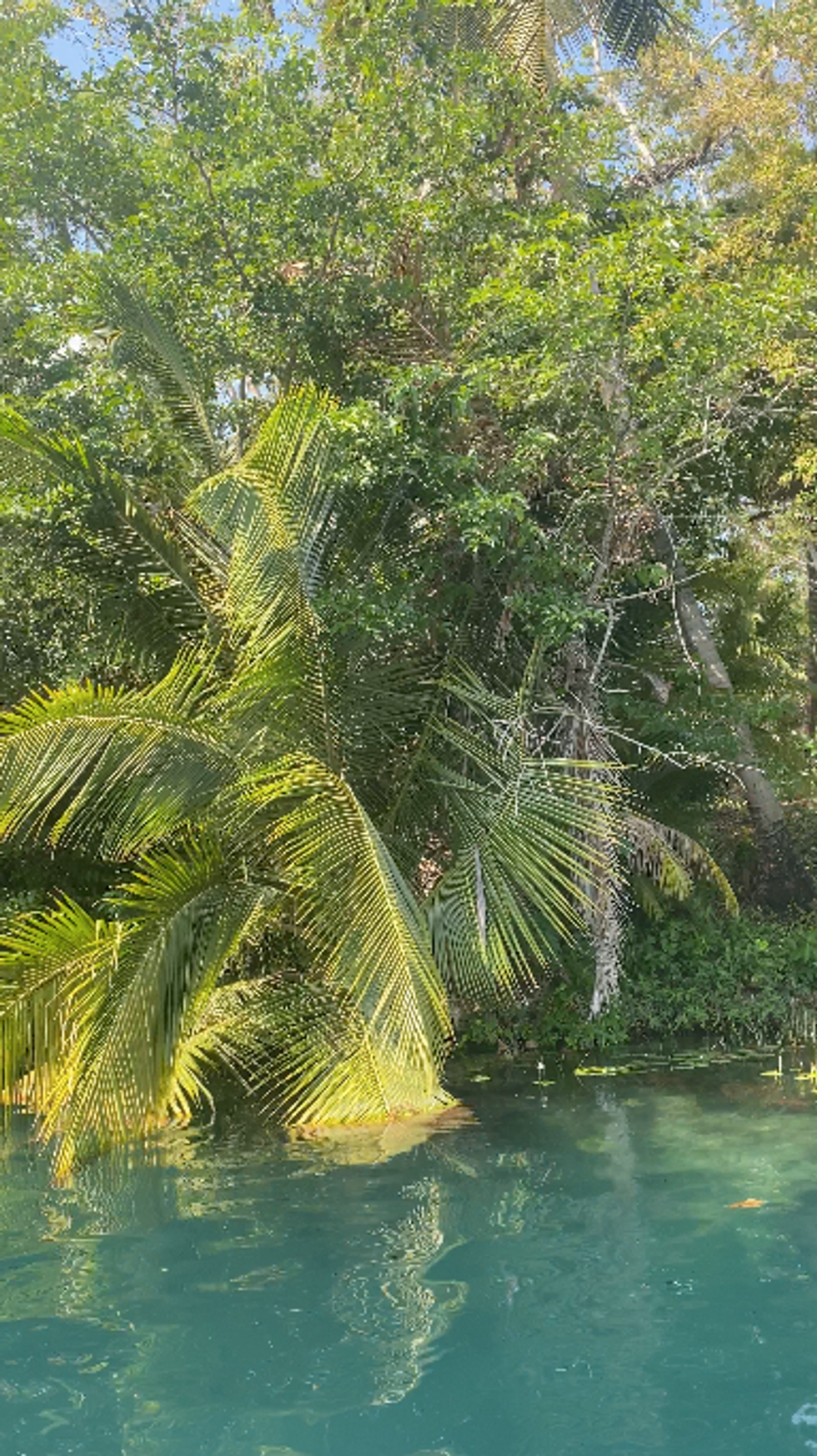 We sailed via a number of of the cenotes situated within the lagoon.
I befriended one other couple I met throughout the breathwork session, Alex and Andrea, who invited me on a sailboat they booked via Habitas for a leisurely afternoon journey across the lagoon. Our tour information taught us extra about Bacalar's cenotes, pure swimming holes, and concerning the stromatolites, the thousands and thousands of 12 months previous microorganisms that give the lagoon its beautiful blue colour and stabilize the ecosystem. It was undoubtedly a spotlight of the journey.
Attend a Temazcal Ceremony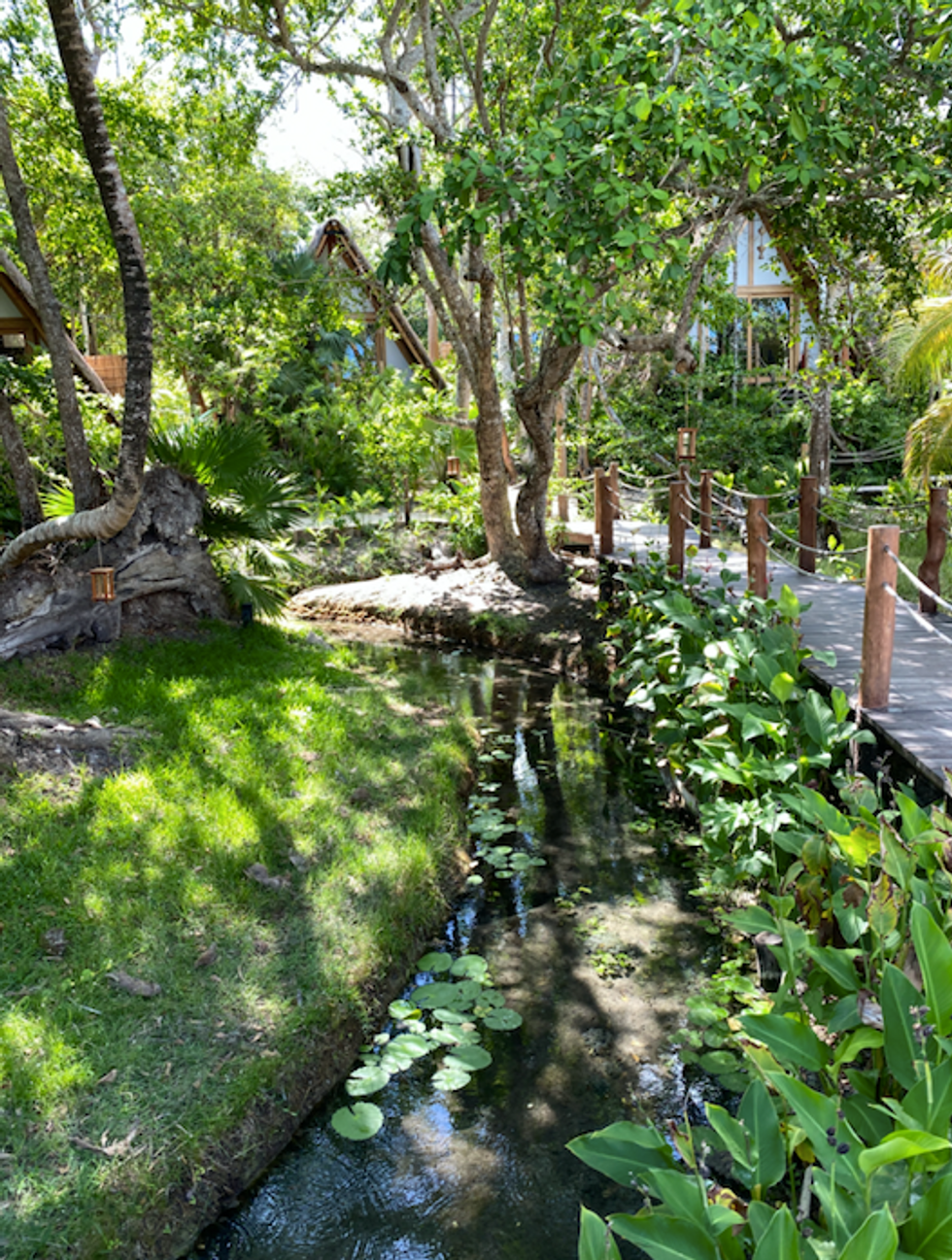 A snap of the trail from my room to the opposite facet of the property the place the temazcal property happened.
Photograph: Courtesy of Ama Kwarteng
Temazcal is an an historical Mayan ceremony that entails sitting in a standard sweat lodge that's meant to represent the womb; the concept behind the ceremony is that when you exit, you're mentally reborn. The ritual is led by a non secular chief and meant to purify the physique, thoughts, and soul. I participated in a temazcal ceremony on the property with Andrea and Gregorio, Alex and Andrea, and one other buddy I met at Habitas, Shlomit, and it was a deeply non secular expertise.
The place to Eat & Drink
Siete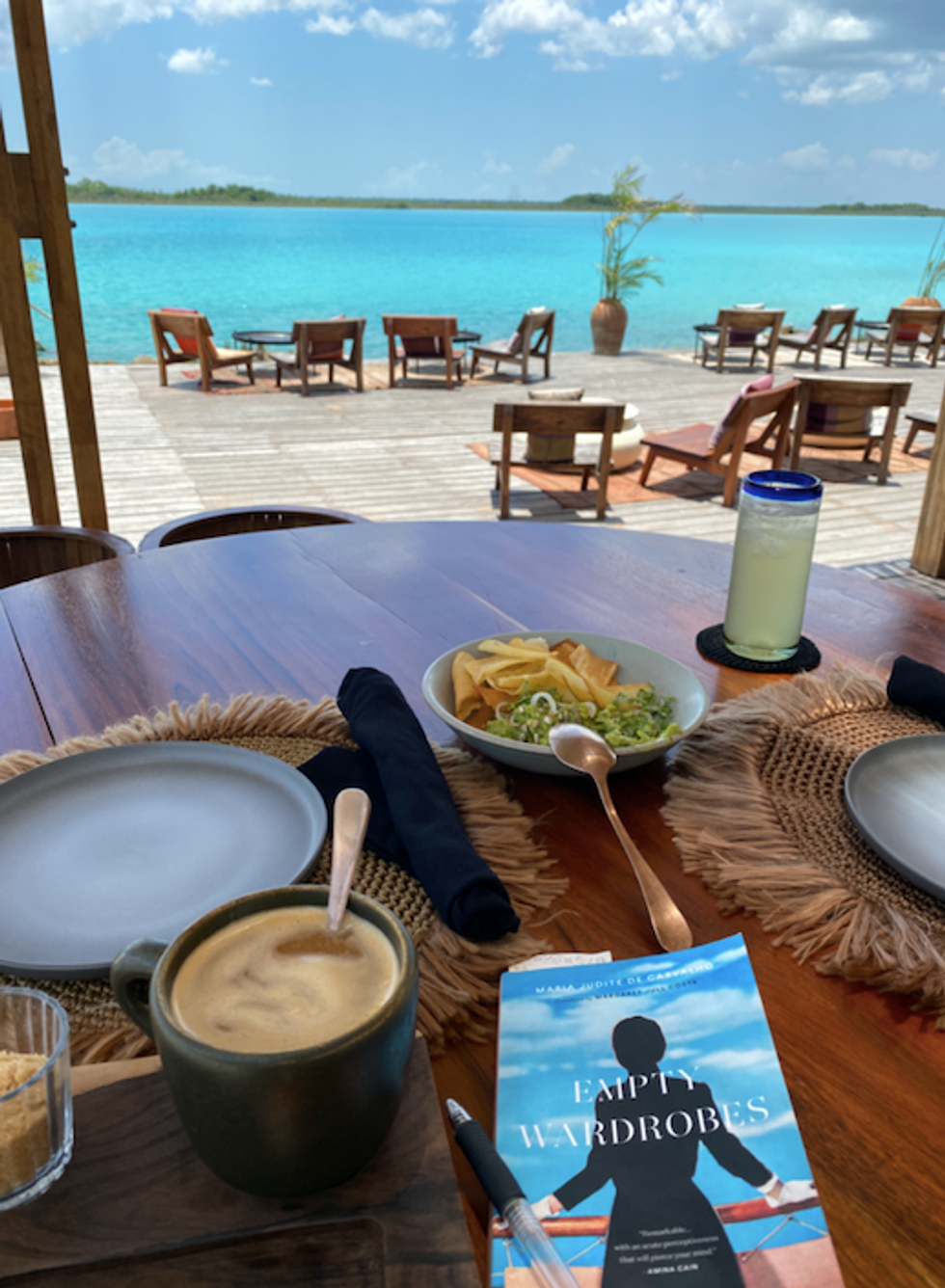 I began each morning with a e-book and an almond milk latte.
Photographs: Courtesy of Ama Kwarteng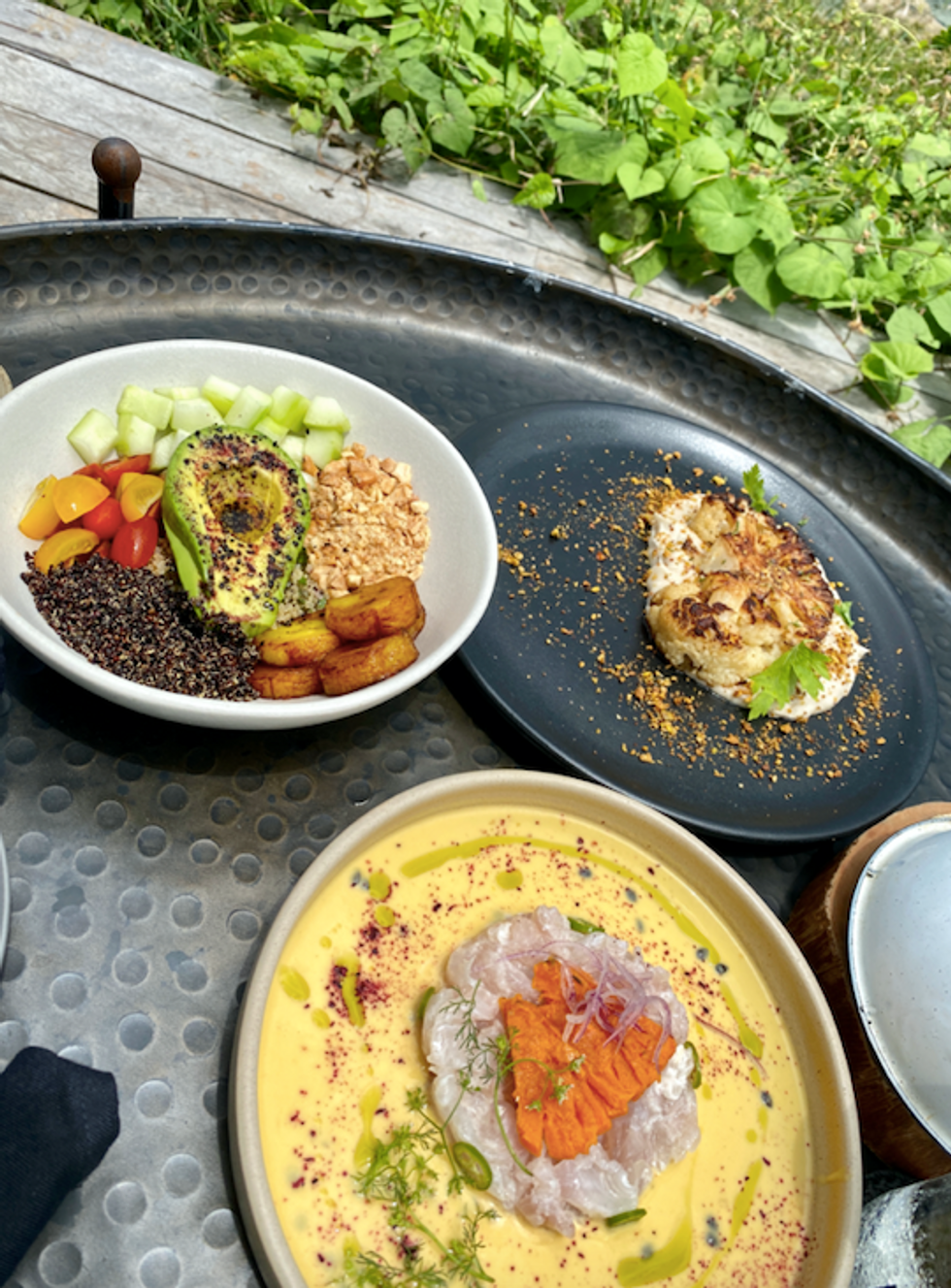 The quinoa bowl, ceviche, and cauliflower from Siete.
Siete is the restaurant on-site at Habitas Bacalar and it options native substances and cooking strategies. I'd suggest the cauliflower, ceviche, and the wood-fried cornbread. So far as drinks go, my favourite was the Frida Khalo, a mezcal cocktail with orange liqueur and coriander. You can too order meals to be delivered to you whilst you're enjoyable by the lagoon and, if you happen to're fortunate, one of many servers, Tino, will provide you with a Mayan language lesson.
Mestizos
The tacos at Mestizos are unimaginable—I am nonetheless fascinated with them.
Photograph: Courtesy of Ama Kwarteng
Do not forget to pair a mango margarita along with your meal.
Photograph: Mestizos Cosina Callejera
Mestizos had a number of the greatest greatest tacos I've ever tasted, interval. Not solely was the meals unimaginable however the service was great as properly. It's an ideal place to seize dinner if you happen to're trying to discover the city of Bacalar.
Store Bacalar Packing Necessities:
Bixi Bikini Prime in Brown Sugar
Riot Swim
window.REBELMOUSE_ACTIVE_TASKS_QUEUE.push(function(){
var makeMonitor = (getStatus, cb, delay) => { delay = delay || 100; var monitor = () => { var time = +new Date(); var status = getStatus(); if (status) { return cb(status); } else { if (!stopMonitor && +new Date() - time < 30 * 60 * 1000) { monitorId = setTimeout(monitor, delay); } else { cb(false); } } }, cancel = () => { stopMonitor = true; clearInterval(monitorId); }; let monitorId, stopMonitor = false; return { start: monitor, cancel: cancel, }; };
var leftArrowCarrousel = makeMonitor( function () { return document.querySelector( ".shop-sidebar.shop-posts .posts-wrapper .slick-next" ); }, function (res) { res.addEventListener("click", () => { gtag("event", "Left Arrow Click", { event_category: "Shopping Module", event_label: "Previous product at carrousel", }); }); } );
leftArrowCarrousel.start();
var rightArrowCarrousel = makeMonitor( function () { return document.querySelector( ".shop-sidebar.shop-posts .posts-wrapper .slick-prev" ); }, function (res) { res.addEventListener("click", () => { gtag("event", "Right Arrow Click", { event_category: "Shopping Module", event_label: "Next product at carrousel", }); }); } );
rightArrowCarrousel.start();
var buyButton = makeMonitor( function () { return document.querySelectorAll( ".shop-sidebar.shop-posts .posts-wrapper .widget__product-buy-link-btn" ); }, function (res) { for (let button of res) { button.addEventListener("click", () => { gtag("event", "Buy button click", { event_category: "Shopping Module", event_label: `${button["href"]}`, }); }); } } );
buyButton.start();
var imageShopp = makeMonitor( function () { return document.querySelectorAll( ".shop-sidebar.shop-posts .posts-wrapper .widget__head a" ); }, function (res) { for (let image of res) { image.addEventListener("click", () => { gtag("event", "Image click", { event_category: "Shopping Module", event_label: `${image["href"]}`, }); }); } } );
imageShopp.start();
var productTitle = makeMonitor( function () { return document.querySelectorAll( ".shop-sidebar.shop-posts .posts-wrapper .widget__headline .widget__headline-text" ); }, function (res) { for (let product of res) { product.addEventListener("click", () => { gtag("event", "Product title click", { event_category: "Shopping Module", event_label: `${product["href"]}`, }); }); } } );
productTitle.start();
});
window.REBELMOUSE_ACTIVE_TASKS_QUEUE.push(function(){
window.REBELMOUSE_STDLIB.loadExternalScript("https://s.skimresources.com/js/150311X1615657.skimlinks.js", function() {
});
});
window.REBELMOUSE_ACTIVE_TASKS_QUEUE.push(function(){
let modDate = new Date (document.querySelector('.current--post .social-date-modified__text').textContent); let createDate = new Date (document.querySelector('.current--post .social-date__text').textContent); let m_names = new Array("January", "February", "March", "April", "May", "June", "July", "August", "September", "October", "November", "December");
function dateToMDY(inputDate) { var d = inputDate.getDate(); var m = inputDate.getMonth(); var y = inputDate.getFullYear(); return '' + m_names[m] + ' ' + (d <= 9 ? '' + d : d) + ', ' + y ; } document.querySelector('.current--post .social-date-modified__text').innerText = dateToMDY(modDate); document.querySelector('.current--post .social-date__text').innerText = dateToMDY(createDate); }); window.REBELMOUSE_ACTIVE_TASKS_QUEUE.push(function(){ !function(f,b,e,v,n,t,s){if(f.fbq)return;n=f.fbq=function(){n.callMethod?n.callMethod.apply(n,arguments):n.queue.push(arguments)};if(!f._fbq)f._fbq=n;n.push=n;n.loaded=!0;n.version='2.0';n.queue=[];t=b.createElement(e);t.async=!0;t.src=v;s=b.getElementsByTagName(e)[0];s.parentNode.insertBefore(t,s)}(window, document,'script','https://connect.facebook.net/en_US/fbevents.js');fbq('init', '1248680838922690');fbq('track', 'PageView'); }); window.REBELMOUSE_ACTIVE_TASKS_QUEUE.push(function(){ window.REBELMOUSE_STDLIB.onElementInViewport({ threshold: 400, selector: "video", oneTime: true, onIntersect: function(entry){ var element = entry.target; element.setAttribute("allow","autoplay"); element.loop = true; element.muted = true; element.autoplay = true; element.setAttribute("playsinline","true"); //element.controls = false; element.play(); } }); }); window.REBELMOUSE_ACTIVE_TASKS_QUEUE.push(function(){ let headings = document.evaluate("//p[contains(., 'Want more stories like this?')]", document, null, XPathResult.ANY_TYPE, null ); let thisHeading = headings.iterateNext(); console.log(thisHeading.textContent, 'head changed'); thisHeading.innerHTML = "More From Coveteur"; thisHeading.style.fontFamily= 'Playfair Display'; thisHeading.style.fontSize="24px";
});
window.REBELMOUSE_ACTIVE_TASKS_QUEUE.push(function(){
IcreateElementChangeListener('.shop-posts .widget__headline-text', (el)=>{
el.setAttribute("rel","nofollow");
});
});