New York Trend Week doesn't simply affect our clothes decisions; the runway additionally serves up main nail artwork inspiration. From minimalist manicures to confetti ideas, the spring/summer season 2023 exhibits had a bit little bit of one thing for everybody. Under, you'll discover the very best nail artwork and manicures from the NYFW spring/summer season 2023 exhibits and the merchandise you'll must recreate them at dwelling.
Colourful Assertion Nails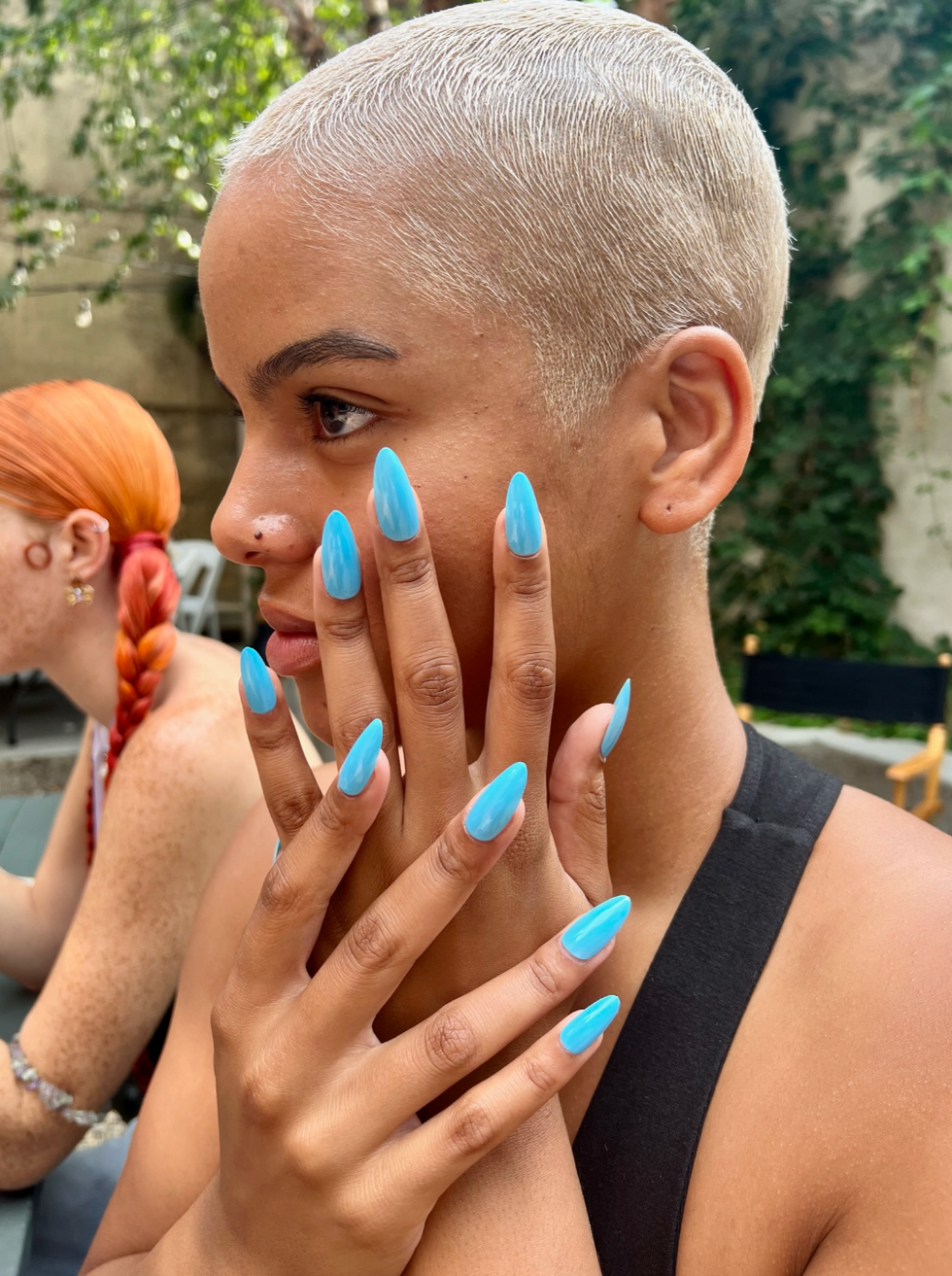 Picture: Orly
"This assortment options supplies in so many colours and textures, we determined to match the nail shade and end precisely with the supplies," says Holly Falcone, the important thing nail artist at Priscavera. The almond formed assertion nails featured daring hues that included chartreuse and shiny child blue.
Recreate it with:
Confetti Glass Suggestions
Picture: Orly
At Susan Alexandra, one of many standout nail appears featured a confetti sample on a transparent, sq. tip. "The '90s have been all about sq. nails in vampy colours, metallic greens and blues, confetti, and naturally, a traditional French Tip," says Holly Falcone, the important thing nail artist for the present.
Recreate it with:
Minimalist Pink
Picture: Tenoverten
"The wonder appears for Ulla Johnson's exhibits are all the time so recent and modern," says Nadine Abramcyk, Tenoverten Co-Founder. For the designer's spring/summer season 2023 present, the fashions donned the shade Anne on their nails. "[It's] a universally flattering pink for the final word buff-your-nails-but-better impact," provides Abramcyk.
Recreate it with:
Glazed Nails
Picture: Kiss
"I used to be impressed to create a chrome glaze jelly nail…which tied into Rebecca's modern-day ladies," says Gina Edwards, the important thing nail artist for Rebecca Minkoff's SS23 assortment. "The all white shade palette with daring gildings labored completely with the highlighted crystal nail accents."
Recreate it with:
Peek-a-Boo Nails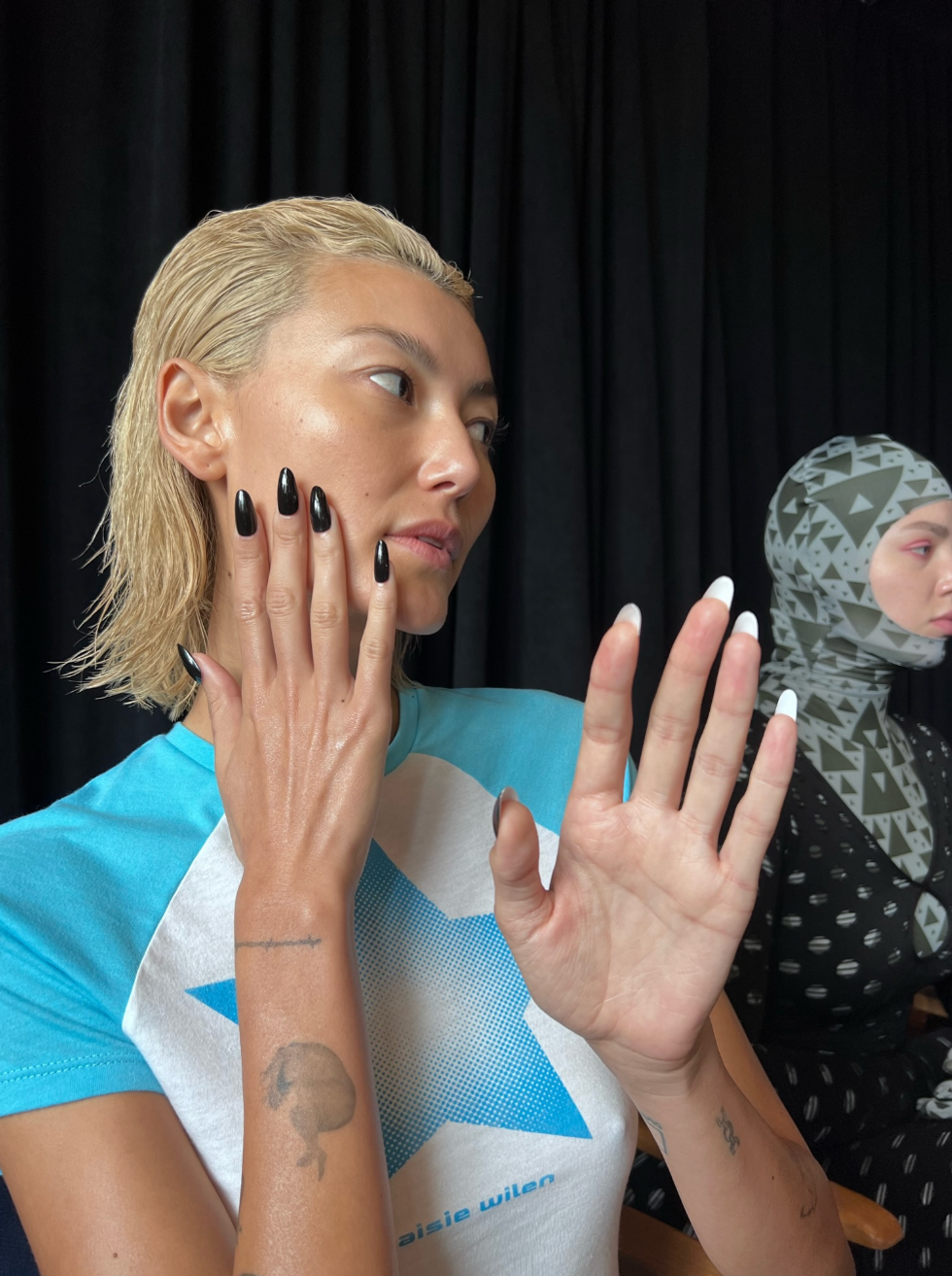 Picture: Apres Nail
Aprés Nail partnered with Sojinails to create the modern manicures for Maisie Wilen's Spring/Summer time 2023 present. Among the nail designs featured a peek-a-boo design—the place one shade is on the highest of the nail and one other shade is painted on the within—for a contemporary twist.
Recreate it with:
window.REBELMOUSE_ACTIVE_TASKS_QUEUE.push(function(){
var makeMonitor = (getStatus, cb, delay) => { delay = delay || 100; var monitor = () => { var time = +new Date(); var status = getStatus(); if (status) { return cb(status); } else { if (!stopMonitor && +new Date() - time < 30 * 60 * 1000) { monitorId = setTimeout(monitor, delay); } else { cb(false); } } }, cancel = () => { stopMonitor = true; clearInterval(monitorId); }; let monitorId, stopMonitor = false; return { start: monitor, cancel: cancel, }; };
var leftArrowCarrousel = makeMonitor( function () { return document.querySelector( ".shop-sidebar.shop-posts .posts-wrapper .slick-next" ); }, function (res) { res.addEventListener("click", () => { gtag("event", "Left Arrow Click", { event_category: "Shopping Module", event_label: "Previous product at carrousel", }); }); } );
leftArrowCarrousel.start();
var rightArrowCarrousel = makeMonitor( function () { return document.querySelector( ".shop-sidebar.shop-posts .posts-wrapper .slick-prev" ); }, function (res) { res.addEventListener("click", () => { gtag("event", "Right Arrow Click", { event_category: "Shopping Module", event_label: "Next product at carrousel", }); }); } );
rightArrowCarrousel.start();
var buyButton = makeMonitor( function () { return document.querySelectorAll( ".shop-sidebar.shop-posts .posts-wrapper .widget__product-buy-link-btn" ); }, function (res) { for (let button of res) { button.addEventListener("click", () => { gtag("event", "Buy button click", { event_category: "Shopping Module", event_label: `${button["href"]}`, }); }); } } );
buyButton.start();
var imageShopp = makeMonitor( function () { return document.querySelectorAll( ".shop-sidebar.shop-posts .posts-wrapper .widget__head a" ); }, function (res) { for (let image of res) { image.addEventListener("click", () => { gtag("event", "Image click", { event_category: "Shopping Module", event_label: `${image["href"]}`, }); }); } } );
imageShopp.start();
var productTitle = makeMonitor( function () { return document.querySelectorAll( ".shop-sidebar.shop-posts .posts-wrapper .widget__headline .widget__headline-text" ); }, function (res) { for (let product of res) { product.addEventListener("click", () => { gtag("event", "Product title click", { event_category: "Shopping Module", event_label: `${product["href"]}`, }); }); } } );
productTitle.start();
});
window.REBELMOUSE_ACTIVE_TASKS_QUEUE.push(function(){
window.REBELMOUSE_STDLIB.loadExternalScript("https://s.skimresources.com/js/150311X1615657.skimlinks.js", function() {
});
});
window.REBELMOUSE_ACTIVE_TASKS_QUEUE.push(function(){
let modDate = new Date (document.querySelector('.current--post .social-date-modified__text').textContent); let createDate = new Date (document.querySelector('.current--post .social-date__text').textContent); let m_names = new Array("January", "February", "March", "April", "May", "June", "July", "August", "September", "October", "November", "December");
function dateToMDY(inputDate) { var d = inputDate.getDate(); var m = inputDate.getMonth(); var y = inputDate.getFullYear(); return '' + m_names[m] + ' ' + (d <= 9 ? '' + d : d) + ', ' + y ; } document.querySelector('.current--post .social-date-modified__text').innerText = dateToMDY(modDate); document.querySelector('.current--post .social-date__text').innerText = dateToMDY(createDate); }); window.REBELMOUSE_ACTIVE_TASKS_QUEUE.push(function(){ !function(f,b,e,v,n,t,s){if(f.fbq)return;n=f.fbq=function(){n.callMethod?n.callMethod.apply(n,arguments):n.queue.push(arguments)};if(!f._fbq)f._fbq=n;n.push=n;n.loaded=!0;n.version='2.0';n.queue=[];t=b.createElement(e);t.async=!0;t.src=v;s=b.getElementsByTagName(e)[0];s.parentNode.insertBefore(t,s)}(window, document,'script','https://connect.facebook.net/en_US/fbevents.js');fbq('init', '1248680838922690');fbq('track', 'PageView'); }); window.REBELMOUSE_ACTIVE_TASKS_QUEUE.push(function(){ window.REBELMOUSE_STDLIB.onElementInViewport({ threshold: 400, selector: "video", oneTime: true, onIntersect: function(entry){ var element = entry.target; element.setAttribute("allow","autoplay"); element.loop = true; element.muted = true; element.autoplay = true; element.setAttribute("playsinline","true"); //element.controls = false; element.play(); } }); }); window.REBELMOUSE_ACTIVE_TASKS_QUEUE.push(function(){ let headings = document.evaluate("//p[contains(., 'Want more stories like this?')]", document, null, XPathResult.ANY_TYPE, null ); let thisHeading = headings.iterateNext(); console.log(thisHeading.textContent, 'head changed'); thisHeading.innerHTML = "More From Coveteur"; thisHeading.style.fontFamily= 'Playfair Display'; thisHeading.style.fontSize="24px";
});
window.REBELMOUSE_ACTIVE_TASKS_QUEUE.push(function(){
IcreateElementChangeListener('.shop-posts .widget__headline-text', (el)=>{
el.setAttribute("rel","nofollow");
});
});